I was sometimes in periods of spiritual quests and always hoped to take either a pilgrimage in Europe either to stay in an Indian ashram for a month. Last year I saw by mistake the movie The Way, a very emotional journey of a father who just lost his son and I put Santiago de Compostela on my bucket travel list. Here are some practical information about the road.
"Camino" usually translates as a "path" or "road", but it can also mean "a journey". This particular path leads to the tomb of St James in Santiago de Compostela, where the remains of the disciple were enshrined after his martyrdom in 44 AD. This pilgrimage way has been walked by thousands for centuries, and eight main routes to Santiago have developed.
We can walked but also drove along the entire length of the most popular route, the Camino Francés, which starts in France at St Jean Pied de Port, crosses the Pyrenees, passes along the north of Spain through the Basque country, Navarre, Rioja, Castilla y Leon and Galicia before reaching Santiago de Compostela. Normally, this route of 490 miles would take around 32 days to walk, averaging 15 miles a day.
As the Camino is about finding oneself and enjoying the silence and solitude, how would it be on a group trip?
"May is the start of the Camino season and August is very sociable at the refugios. If you want to do it alone, winter is best," says Alberto Bosque, from the regional government of Castilla y Leon.
"The best way to walk the Camino is alone," says the guides. However, the Camino is no longer a solitary, deserted path to enlightenment. Some 300,000 pilgrims walk it each year, usually on foot but also by bike, car and even horse.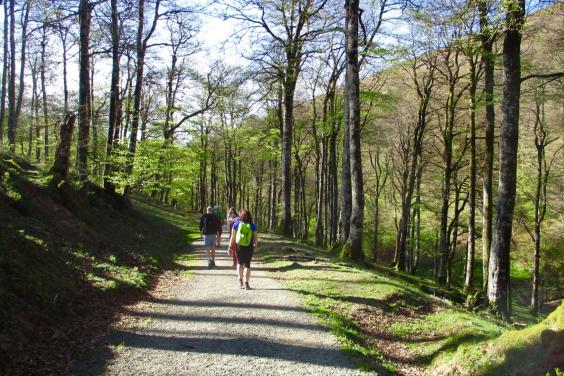 We would usually fly to Biarritz and then drive to the French town of St Jean Pied de Port, the traditional starting point for the Camino Francés. There, we collect our Pilgrim Passports, to be stamped at hostels, restaurants and churches along the way. Pilgrims must prove they've walked at least 100km (62 miles) to qualify for the Compostela certificate on arriving at Santiago.
"Buen Camino!" – a phrase we shall hear hundreds of times during the road.
The way passes through many different landscapes: the snow-capped Pyrenees, the Meseta (Spain's central plateau), wild, deserted hills, dense eucalyptus forests and damp, green Galicia, which recalls Kent. The food and drink alters as we progress; we enjoy great hams in Navarre, beefy red wines in Rioja, pintxos in Logroño and octopus in Galicia.
There are many different reasons for walking the Camino. "Seventy per cent of people don't do it for religious reasons," says Bosque. "Many people do it and don't know why. They start with one idea about the Camino and then change along the way."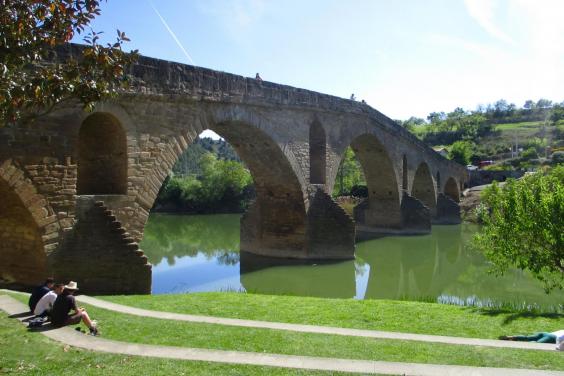 The Camino offers up many magnificent buildings; delicate masonry of Burgos Catedral de Santa Maria, built in 1221 and the resting place of Castilian nobleman and military leader El Cid. Leon, meanwhile, boasts a stunning cathedral and Antoni Gaudi's Casa de los Botines in the heart of the old town. Another lesser-known Gaudi building, the Episcopal Palace, can be found in Astorga.
In the mountains near Manjarin, the treeless hills are covered in purple heather and yellow gorse; we feel as if we are in the Scottish Highlands, although we can see the snow-capped Pyrenees in the distance. We arrive at the Iron Cross (Cruz de Ferro) at the top of Monte Irago, the highest point on the Camino, at an elevation of 1,515m above sea level. It's traditional to throw a stone, brought from the starting point, with the pilgrim's back to the cross, to symbolise the journey.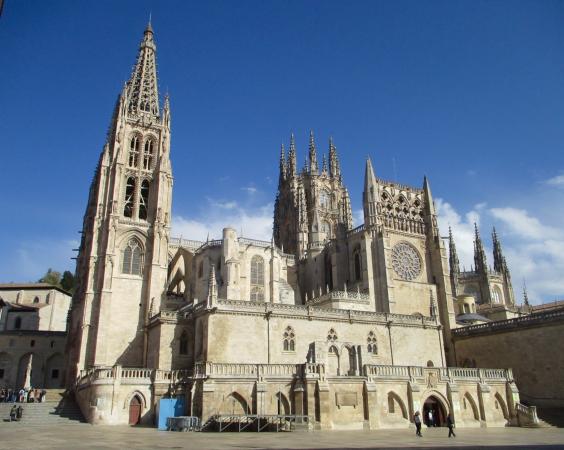 At Sarria in Galicia, 100km from Santiago, things start to get crowded – 1,000 pilgrims a day pour through the town. Those who want the certificate can start from here and still qualify, something that Spanish students are keen to do to impress future employers. Three Spanish girls, dressed in bright red trousers and T-shirts, resemble a pop group on tour; they are dancing and singing, full of energy, while others at this stage limp along, propped up by their companions.
Mass at Santiago Cathedral is a moving experience, even for those who aren't religious. We sit in the great Unesco World Heritage building, watching the 53kg botafumeiro (incense burner) smoking and swinging through the nave.
Travel essentials
The nearest airport to St Jean Pied de Port is Biarritz, 25 minutes' drive away. Easyjet (easyjet.com), Ryanair (ryanair.com) and British Airways (ba.com) all offer direct flights from major destinations.