I love almost everything about Lisbon except bacalao. If you will go to Lisbon to see jacarandas trees blossom than you'll definitely notice bacalao in shop windows and a selfie will be a must for your Instagram account.
Honestly the selfie is the best thing about bacalao, or the salted code fish. The taste is over rated and in fact is a food came from necessity to preserve the fish.
Salt cod has been produced for at least 500 years, since the time of the European discoveries of the New World. Before refrigeration, there was a need to preserve the cod; drying and salting are ancient techniques to preserve nutrients and the process makes the cod tastier. More importantly, fish low in oils and fats allow for the drying and preservation process to occur: oils and fats prevent the salt water from preserving the fish. Cod fish have very low levels of oils, and most is located in the guts.
In Portugal, bacalhau is often sold as a generic product with no brand information. Customers are free to touch, smell, and otherwise personally inspect the fish, which is very different to how fresh seafood is often sold. Stores can carry a large variety of bacalhau differing in color, size, smell, taste, and dryness. Such variation has led Portugal to define requirements as to what products can carry the label "Bacalhau de Cura Tradicional Portuguesa".
It is more of an ingredient to many other dishes and I have ate a salad that was quite interesting, although it is a taste to learn not to fall in loved with at first sight:
ensalada de bacalao (salted cod salad)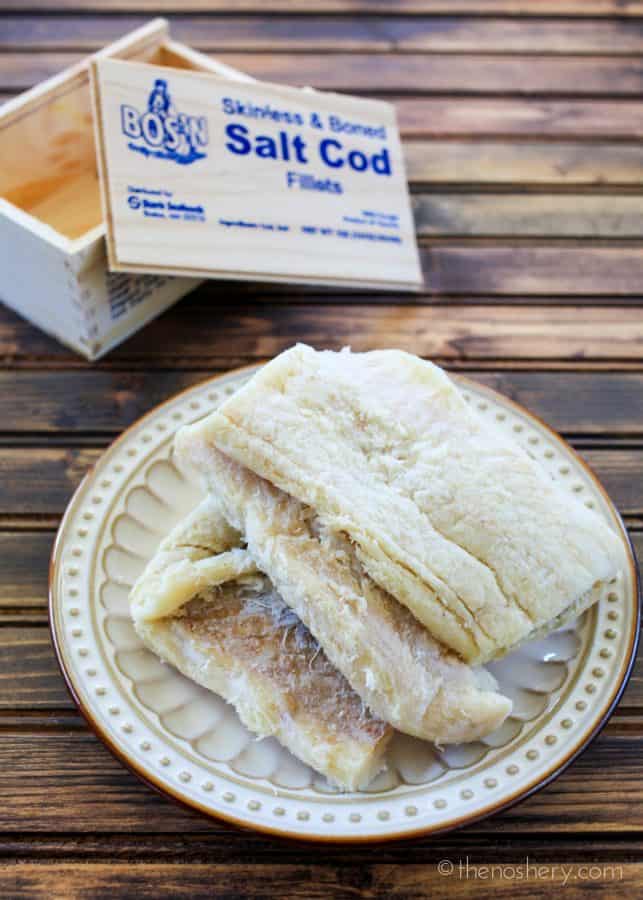 This salad has become one of my favorite easy make ahead meals. Served chilled or room temperature it's the perfect recipe for the summer.  Although the main ingredient is salted cod, it is not overly salty, and it is not fishy.  It is a great combo of mild saltiness from the fish and sweet from the combination of tomatoes, onions, and olive oil.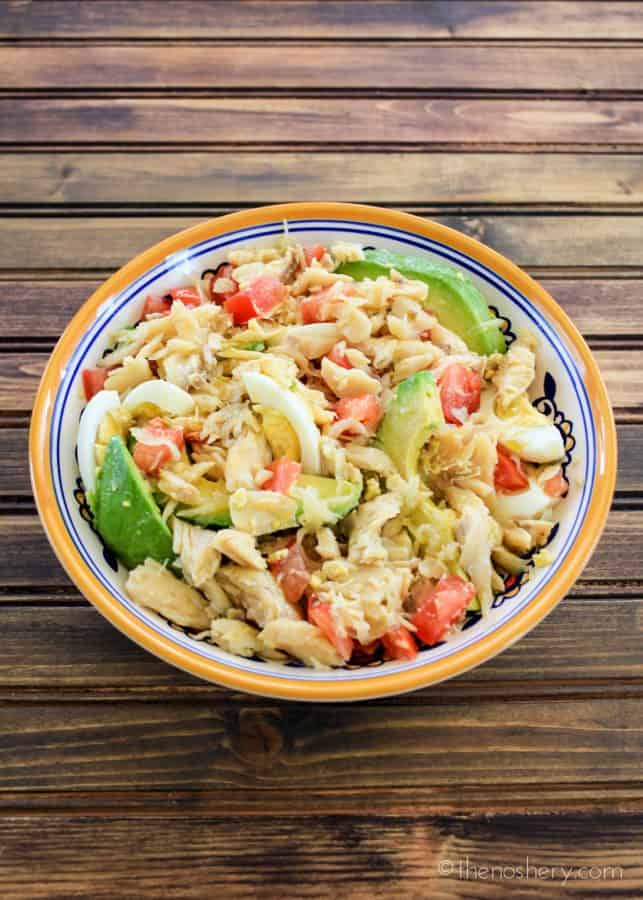 how to soak salt cod for ensalada de bacalao
The most important part of this recipe is removing just the right amount of salt from the cod. If you don't remove enough it's inedible and if you remove too much it's just bland. We typically will soak the salted cod in cold water for 15 – 30 minutes. We then place it in pot, covered with water and bring it to a simmer. Changing the water and bringing to a simmer 3 – 4 times or until the cod is to your taste.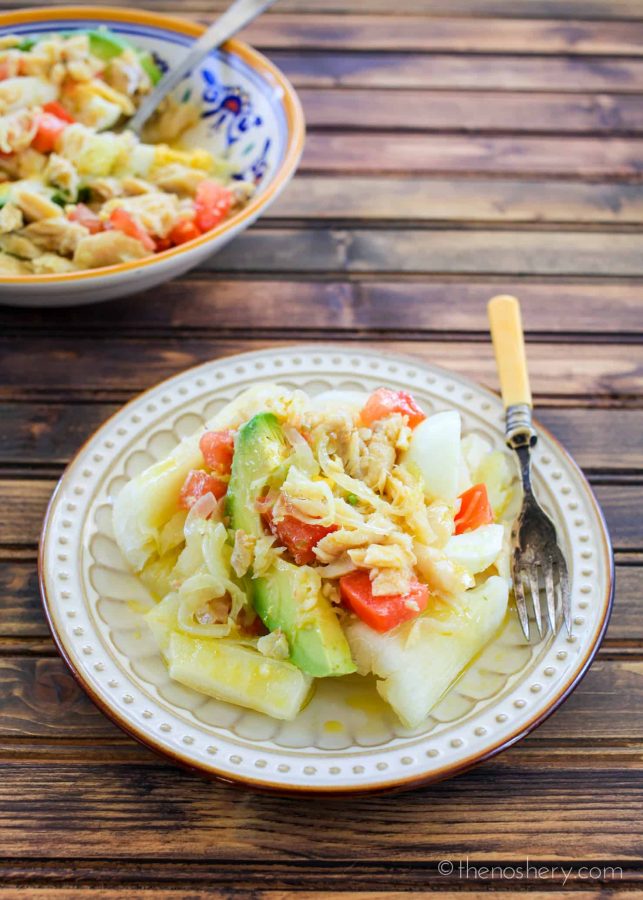 what to serve with ensalada de bacalao
Ensalada de bacalao can be enjoyed alone or served over boiled yuca. It's also great served over salad greens, white rice, or with crispy arepas de coco (coconut fry bread).  And, no meal is complete without dessert! A favorite Puerto Rican desserts is tembleque (coconut pudding).
INGREDIENTS
1 lb of salted cod
1 large yellow onion, thinly sliced
1 large tomato, diced
½ large avocado or a whole small avocado, diced
3 hard-boiled eggs, quartered
12 green olives (optional)
¼ cup olive oil
1 tablespoon white wine vinegar
INSTRUCTIONS
Soak salted cod in cool water for 15 – 30 minutes. Drain and transfer cod to a pot. Cover with water and bring to a simmer on the stove top. Change water and bring to a simmer 3 – 4 more times or until cod reaches desired saltiness. Drain, using a fork break up the cod and set aside.
Saute onion in a skillet with 2 tablespoons of olive oil until soft and translucent.
In a large bowl combine cod with onions and remaining ingredients. Toss until well combined. If the salad is too dry to your liking add more olive oil.
Serve with rice or boiled yucca root drizzled with olive oil.