I honestly never heard of Alentejo but after making some research I felt in loved and put it on my travel bucket list for Portugal.
The Alentejo is without a doubt one of Portugal's best kept secrets! Why? Because of its authentic character, beautiful rural areas filled with cork oaks and pine trees, vineyards and olive groves, endless nature views and deserted beaches. Next to that the excellent food, homemade wines, abundant architectural heritage, classy cities and quaint villages will ensure memorable experiences, especially for gastronomy lovers and peace seekers.
---
The Alentejo is a mystical place of gliding plains, sudden mountains, and the largest cork forests in the world. The Alentejo's Cork Country is a lightly populated region with open horizons where the rhythm of life follows the rhythm of regional songs. And this fertile land produces more than half of the world's total cork supply.
An Introduction to Cork Country
During the summer the green stands of cork oaks turn the flowing plains of the Alentejo into a romantic and enchanting place of sun and shadows. These ancient forests, which have produced cork for millennia, are occasionally interrupted by wine estates, olive groves, or a white and blue house on a hill. After the bark is harvested, the trees light up the day with their red hues, a sign of the only tree that has a renewable bark.
The Portuguese often refer to the Alentejo, with its own dialect, strong Moorish flavor, white washed towns, and unique songs, as its own nation. Most towns seem to float on hilltops above the plains, embraced by a castle. Gothic towers and red tiles rise from the venerable walls. The songs of the Alentejo, with a flavor of coriander and garlic, greet the visitor.
Its endless landscapes are rich in reminders of it past. From prehistory there are countless Dolmens, Mehnirs, and burial mounds. Impressive Roman relics are everywhere, from the still-standing temple at Évora to a mostly intact Roman villa at São Cucufate. While the Alentejo flourished under centuries of Roman rule, it thrived in the 400 years that the Moors held it. They left behind cultural and architectural ties, a Mosque at Mértola, and legends.
By 1249 a young Portuguese nation had incorporated the Alentejo, and strong castles arose to guard the plains. With mild winter weather, abundant soil, and a hospitable landscape, the Alentejo flourished in the Middle Ages and the Age of Discovery. Cork, wine and wheat would become the treasures that this land would offer the world.
Today, the Alentejo remains rural and natural with thousands of miles of cork forest and a variety of wildlife. Its large towns are living museums, still in their ancient walls, with a sense of timelessness that is increasingly difficult to find elsewhere. From the monumental charm of the regional capital of Évora, to the impossibly high castle tower at Beja in the south, history, tradition, and grandeur are everywhere. It is a place where amid a harmony between nature and humanity we can remember so much of what we have forgotten. These lands of cork once bore the likes of Vasco da Gama to explore the world. Today, the world is invited back to discover the Alentejo.
Cork Country has distinct seasons, with a green spring rich in wild flowers. In the early summer, storks build their nests on rooftops in whitewashed villages, and the heat turns the plains to gold. The winter is mild, but the open fields become bright yellow-green, and the shepherds dress in long capes to stay warm.
What is Cork?
Cork is a unique substance and the perfect closure for wine. A totally natural product, cork is environmentally friendly, renewable, recyclable, and biodegradable. There is enough cork today in the forests of Portugal to last more than 100 years. Under a reforestation program, Portugal's cork forests are now growing by four percent a year on average.
From Bark to Bottle
To produce cork, a cork oak (Quercus Suber, or Sobreiro in Portuguese) must be at least 25 years old. A cork oak can live as long as two centuries. To harvest the cork, the outer bark is stripped from a cork oak once every nine years. The tree is protected by an inner bark, which is always left on the tree. The harvested bark is boiled and purified. The corks are then punched. The cork industry is environmentally friendly and truly sustainable. In Portugal, for example, the protection of cork by law has resulted in thousands of acres of protected forests. In return, these forests protect hundreds of species of birds, animals, and plants. The cork industry also sustains more than 15,000 employees in remote areas.
The wine cork is one of the most natural products in use in modern consumer society. Made entirely from the bark of the cork, wine cork is completely biodegradable. A Tradition Cork has been used for thousands of years. The most widespread application is cork's history is as a wine closure, a use that began in the 17th century when Dom Perignon chose the bark of the cork oak as the perfect sealant for his champagne and it grew with the spread of mass-produced glass bottles. Portuguese cork has brought the world all of its greatest wines.
Cork's Living Forests
According to a recent study by The Royal Society for the Protection of Birds, the use of natural corks by the world's wine industry sustains a variety of rare wildlife in the cork forests of Southern Europe.
These cork oak woodlands, known as "montados" in Portugal, have been used to produce cork and graze livestock for centuries, making them a haven for wildlife. Forty-two bird species depend on them, including the endangered Spanish imperial eagle (with a global population down to 130 pairs), as well as rare species such as the black vulture and black stork. Smaller birds, such as robins, finches and song thrushes, migrate to the Iberian Peninsula's cork forests from northern Europe, along with blackcaps from the United Kingdom. In spring and summer, the cork forests are home to a rich variety of butterflies and plants, with more than 60 plant species recorded in just one square meter. In more remote parts of these protected lands, the rare Iberian lynx can still be found.
The cork oak is the only tree that can regenerate its bark. Natural wine corks are made from the bark of these trees, which are stripped every nine years. One particular tree, known as the "Whistler Tree" because of the many singing birds attracted to it, is said to be 212 years old. It is estimated that this tree alone had produced 1,000,000 corks by the year 2000.
Portalegre: Among the towers and walls of the medieval castle stand the Paços do Concelho and Hospital da Misericórdia. Main sites include: the Cathedral, São Bernardo Convent, the São Francisco Monastery (13th to 18th centuries), and the Regional, Sacred Art, and Casa de José Régio Museums.
Marvão: Just south of Castelo de Vide lies impossibly high and fortified village of Marvão. Inside its impressive castle, Marvão offers wonderful views.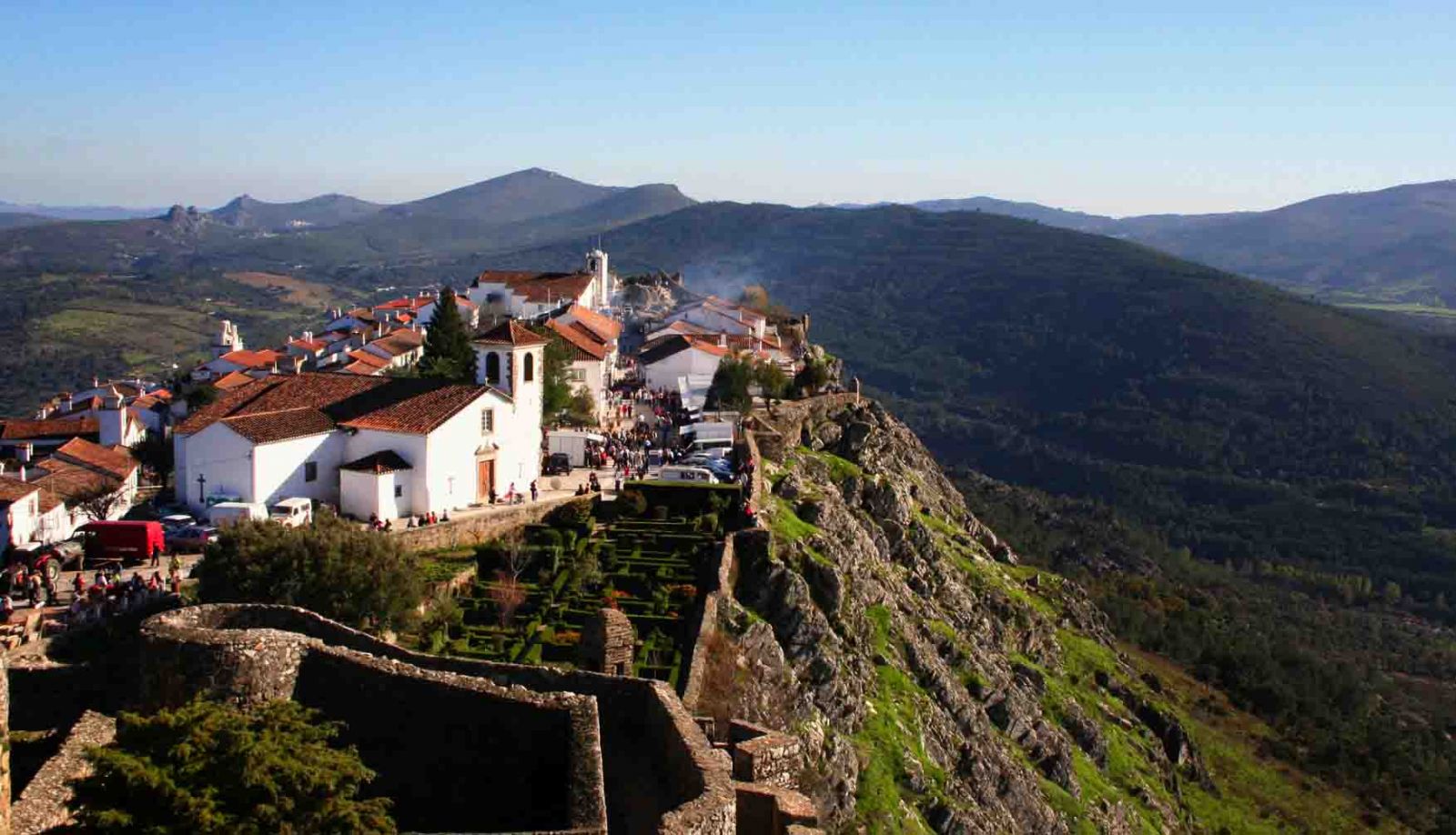 Castelo de Vide: This ancient market town is known for its ruined castle and Jewish quarter (with a 15th century synagogue). Sights include the charming village fountain, the chapel of São Salvador do Mundo (Visigothic) and the twin Paços do Concelho (medieval and 18th century).
Estremoz: A ship of walls rising above the trees, Estremoz is a marble town, with its a 13th-century castle, Santa Isabel Chapel (18th-century), Royal Palace, São Francisco Church and Convent (Romanesque-Gothic), Paços do Concelho (14th-century), Maltesas Convent (16th-century), and the Municipal Museum.


Évora: A museum-city with its historic center classified on UNESCO's International Heritage list. The well-preserved Roman temple, located close to the Cathedral, houses a Sacred Art Museum (Roman-Gothic). Among its many convents and churches are São Brás Chapel (Gothic-Moorish); São Francisco Church (with its Capela dos Ossos, a chapel walled with human bones) and São João Baptista Church (Gothic-Manueline); churches of Nossa Senhora da Graça ,Santo Antão and São Vicente (Mannerist). Palaces include: Archiepiscopal, Dom Manuel, and Dukes of Cadaval. Other many sites include the Praça de Giraldo with 16th-century arches, an aqueduct, the convents of Santa Clara, Santa Helena do Calvário and Lóios (currently a Pousada), the University, and an ancient Jewish quarter. Vila Viçosa: Built around the palace of the House of Bragança, the last Portuguese dynasty. Other places of interest: Castle, Santo Agostinho Church (13th-18th centuries), Chagas de Cristo Convent, Nossa Senhora da Esperança Monastery and Castelo Novo (Renaissance).
Elvas: Fortress town, with a Roman-Arab castle. Sites include the Amoreiras Aqueduct (15th-17th centuries), town church (Manueline), churches of Nossa Senhora da Consolação (Renaissance) and Santa Clara (17th century), and Archeology Museum.
Monsaraz: This is an inviting and beautiful medieval village, with castle walls and fortifications to challenge all enemies. Sites include the Santa Catarina Chapel, Paços do Concelho, Paços de Audiência and Porta da Vila.
Beja: This town thrived under the Romans and Moors. Sites include the Queen Leonor Museum, churches of Santo António (Visigothic) and Santa Maria, convent and castle of São Francisco (a Pousada), chapel of Santo André (Gothic-Moorish), and Misericórdia Church (Renaissance). Roman ruins are nearby at Pisões.
Mértola: This breathtaking place sits on the right bank of the Guadiana River. The town's preserved castle was built by the Moors. The main church, with its sculpted façade and elements from the Manueline period, was once was a mosque. Mértola is a hub of archeological activity. The Roman museum occupies the Town Hall building. The Islamic collection includes the country's essential archive of ceramic objects (9th to 13th-centuries). Other Cork Country Towns to Visit: Alcáçovas, Aljustrel, Alter do Chão, Alvito (Pousada), Arraiolos (handmade rugs), Avis, Borba, Campo Maior, Crato, Santiago de Escoural (archeological park), Evoramonte, Flor da Rosa (Pousada), Monforte, Montemor-o-Novo, Moura, Nisa, Ourique, Redondo, Serpa (Pousada), Viana do Alentejo, and Vila Nova de Milfontes
The Cuisine:
Carne de porco à alentejana (pork with clams and coriander), Migas (bread crumbs), Coriander bread soup, Rabbit and hare, Soups (fish, tomato, gaspacho), Kid and lamb stews, Egg sweets, Cheeses: Nisa, Serpa and Évora Red and white wines: Borba, Redondo, Evora, Portalgre, Requengos, Vidigueira, Cuba and Alvito.